How to Find Responsible Electronics Recycling Companies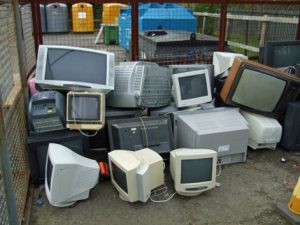 We all have electronics to discard. But we simply cannot throw away electronics we do not want to use anymore. You need to recycle the items properly. Otherwise; the lead, mercury, and other toxic wastes from batteries and electronics can harm the earth.
Yes, you can also donate the equipments you do not want. But that would require you to find a place (organizations, schools, etc.) or a person to accept the item/s and then arrange the pickup or drop-off of the same. You can avoid these hassles and simply hire a junk removal Austin company specializing in recycling electronics.
Consider these tips to find responsible electronics recycling companies for your requirements.
Make a list of the company names.
When it comes to recycling electronics, we all need to act responsibly. The right step in this direction is to hire an electronics recycling company for the task. Not all junk removal companies offer electronics pickup and recycling services. So, you will need to find one that meets your requirements.
A simple online search can help you in this regard. For instance, if you are looking for an electronics recycling company in Austin, then use a search term such as electronics recycling Austin or electronics recycling companies near me. You will be able to find leading companies in your area that offer electronic recycling via such online searches.
Check their websites to know more about them. Check the company's profile and experience in offering electronic recycling services. Check if the company is licensed to offer the recycling service and is insured as well. Check what kind of electronic items they accept for recycling.
Choose only those companies that tick all the above boxes. Once you have found one or two such companies; it is time to contact them.
Contact them to inquire about their e-waste recycling system.
When looking for electronics recycling companies, you do not want just any company. You want one that uses responsible methods to recycle the electronic junk they collect. Many companies now offer eco-friendly recycling services for small and large electronics. They not only recycle the electronics properly; these companies also find organizations that accept donations for electronic items.
Inquire if their employees dealing with electronic recycling are properly trained and licensed. Check how they collect the electronics. Would you need to keep the electronics ready outside your house for them to collect? Will they collect the items from inside your home and minimize your inconvenience? Do they deal with recycling only smaller items like cell phones or all kinds of electronics?
Feel free to ask them how they recycle the electronics they collect. Reputed companies will be more than happy to provide you with such information that you are seeking from them.
Inquire about the costs.
Before you hire an electronics recycling company; inquire about their charges for the same. The cost of the service must be comparable to the task they perform. Responsible companies will offer you an upfront rate for their services. They will also offer free quotes without any obligation on your part to hire them.
When inquiring about the costs; consider factors such as convenience and professionalism. Do they clean up after them when collecting junk from your home? Do they do all the heavy lifting when it comes to collecting the electronics from your house or office?
You must get impeccable service for the money you pay for it. Reputable companies will not shy away from offering you the cost estimates with all the charges included in it, such as taxes or labor costs.
Hire the best company.         
Once you are satisfied with the services and costs of the electronic recycling services offered by a company; feel free to hire them. It is best not to delay disposing of and recycling electronic junk from your house or office.
You can keep your home or office space clutter-free with timely recycling of all outdated electronic items. You will also not need to store them away in another room or storage facility till you can figure out what to do with all that electronic junk!
You will need to recycle electronics form from time to time. Ongoing business relationship with a responsible electronics recycling company can be helpful.