What is the Use of an HDMI Switcher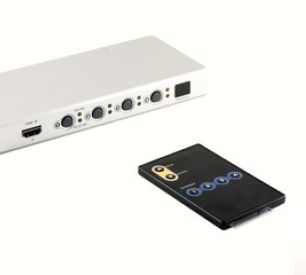 An HDMI Switcher is a useful device to hook up your HDMI devices to your HDTV simultaneously. It means you don't need to swap HDMI devices and can enjoy any HDMI source on your HDTV with a press of a button. Let's learn about this amazing new device and different types of HDMI Auto Switch available in the market.
What Is an HDMI Switcher?
An HDMI Switcher is a small box-like device with multiple HDMI inputs and one HDMI output. There are various types of HDMI switcher available such as
HDMI switch with multiple inputs and single output
HDMI Switch with an optical audio port
The HDMI Auto Switch with multiple inputs and a single output is available in various sizes like 2×1, 3×1, 5×1, and many more.  The HDMI Switch with optical audio port has additional audio conversion capabilities such as converting audio into optical audio.  This switcher is a useful device for home theater systems with TOSLINK or optical video inputs.
What Is HDMI Switcher Used For?
Many HDTVs come with one HDMI input. This means you can connect only one HDMI source at a time. If you want to watch a different HDMI source other than which is connected? You have to disconnect the older HDMI source and connect the desired HDMI source. This frequent swapping of HDMI sources and connections can be frustrating at times.
The HDMI switcher with its multiple HDMI inputs brings in the convenience we want. With HDMI switcher installed in your home theater setup, you can connect multiple HDMI devices to the HDTV. You can watch any desired HDMI source without the need to establish physical connections between your HDMI source and HDTV. You can connect a variety of HDMI devices like a cable box, DVD player, Blu-ray player, gaming console and other devices with HDMI ports.
What Is a 4K HDMI Switch?
Not all HDTVs are created equal. The video resolution of the television is an important element. There is a variety of HDTV resolutions available such as 2K, 1080P, UHD, 4K, and more. The 4K HDTVs are quite popular in the market due to the higher resolution they offer. The 4K resolution is expressed as 4096 x 2160 which is slightly higher than UHD.
If you have a 4K HDTV, you need to look for best 4K HDMI switch in the market to enjoy best picture quality of the HDMI source. Only a few HDMI switchers are capable of 4K resolution and you need to check for 4K sign on the HDMI switcher when you buy one.
Features to Look for in 4K HDMI Switch
HDCP Transparency
Just buying the best HDMI switch will not suffice, you need to also ensure the HDMI Auto switch has HDMI transparency or HDCP bypass feature. HDCP is a digital content protection technology by movie production houses and broadcasters to protect attempts of piracy. The HDCP technology works to prevent any attempt of copying when the AV signal travels from source to display.
To enjoy HDCP protected content on your HDTV, all devices that sit between the HDMI source and HDTV need to have HDCP transparency. Without HDCP compliant switch, you will miss all HDCP protected content even if you have paid for it.
EDID
EDID (Extended Display Identification Data) Management refers to a display technology where the video source and the display communicate with each other to determine the best video resolution. Since all HDMI sources don't support same video resolution, the presence of EDID management helps in determining the best video resolution for every HDMI source.
Design Consideration of HDMI Switch
Minimum Insertion Loss– HDMI switcher with RF and Microwave layout techniques work well to reduce signal loss when traveling through HDMI switch.
Minimum Cross Talk– with multiple HDMI inputs, crosstalk between channels can affect the quality of AV streams. Again HDMI switches with RF and Microwave layout techniques work well to reduce crosstalk.
Look for the features outlined above when purchasing an HDMI auto switch along with right port configurations and design considerations.  HDMI has become a de-facto standard to connect HDMI devices and it only makes sense to purchase the best 4K HDMI switch for your home theater setup.