Know More About HDMI Extender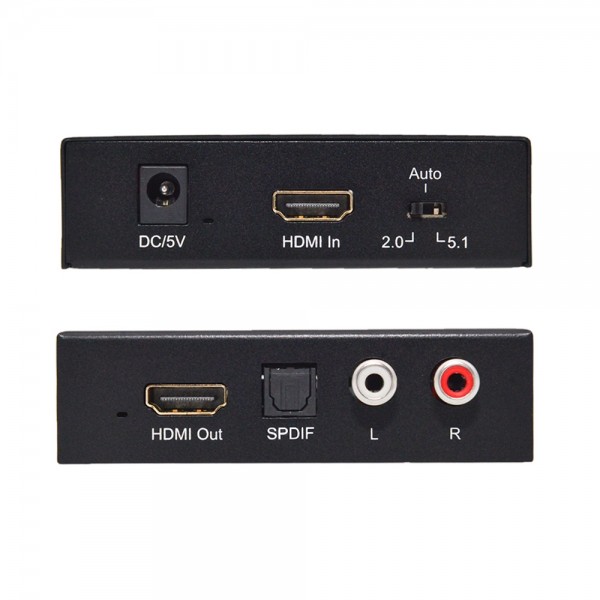 HDMI has become a standard for connecting HD video devices. Today, almost every HD video device like a set-top box, Blu-ray players, gaming consoles have HDMI outputs, but HDTVs come with one or two HDMI inputs. In such scenarios, you can easily run out of HDMI ports and you would be required to plug and unplug HD devices to HDTV more frequently.
You can save yourself from this inconvenience by purchasing a 5 port HDMI switch. Here are some tips to purchase the best HDMI switch.
Number of Ports
The HDMI switch you consider should have an adequate number of HDMI inputs. For the majority of homes, a 5 port HDMI switch would be an ideal purchase. The 5 port HDMI switch will allow you to connect 5 HD video devices to your HDTV.  If you have 3 or less HD video devices currently, the additional HDMI inputs would allow for future expansions.
External Powering
It is necessary that HDMI switch is powered independently; it should draw power from the dedicated electrical wall outlet and not from the HDMI cable. Some HDMI switch manufacturers design HDMI switches to draw power from the HDMI cable to cut down manufacturing costs.
There is a major flaw in such design as HDMI outputs of HD video devices are not designed to power other devices. Such attempts would only overload the HDMI source and prevent the HDMI switch from functioning properly.
Automatic Source Selection
The HDMI switch should have a smart scan feature that detects the HDMI signal from the HD video device and switches to the HDMI source automatically. This will save the user from the inconvenience of selecting the right source every time while watching video on HDTV.
Remote Control
The HDMI switch should also have a remote control to manually select the HDMI source if the need arises.
Power-Saving Feature
Looking at the ill-effects of global warming, it is imperative that we are cautious about our carbon footprint and it should reflect in our choice of entertainment devices. The HDMI switch should have a power saving feature which will ensure the device goes into Standby automatically when the HDTV is switched off.
These are some of the essential features you should look for while purchasing a 5 port HDMI switch. If the HDTV is located more than 25 feet away from the HD video devices, you need to consider purchasing HDTV Extender over Cat5 for your home theater setup.
Why Do You Need to Consider HDMI Extender over CAT5?
Finding an HDMI cable measuring more than 25 feet is a bit difficult. Also, the theoretical limitation of HDMI cable is 50 feet. It means HDMI cable is likely to suffer signal loss if you use HDMI cables of longer length. In such scenarios, you need to use HDMI extender over CAT5 which can solve your problem.
A large number of housing projects are pre-wired with CAT5. Hence, it only makes sense to use the existing CAT5 network for your home theater setup instead of investing in HDMI cables.
What is HDMI Extender over CAT5?
The HDMI extender over CAT5 is a device with two separate components- the transmitter and the receiver.
Transmitter- the transmitter has two ports- an HDMI input and RJ45 output. The HDMI video source feeds the HDMI signal to the buffer amplification circuit inside the transmitter. The video signal is converted into a high-bandwidth signal that can be carried over CAT5 through the RJ45 port.
Receiver– the receiver has two ports- RJ45 input and HDMI output. The HDTV is connected to the receiver through the HDMI output. The signal transmitted over CAT5 is received and fed into compensation circuit that rectifies any transmission losses and converts back into proprietary HDMI signal that is fed into HDTV.
Advantages of Using HDMI Extender over CAT5
The device allows you to use CAT5 for HDMI transmission that has many advantages over HDMI
It is cheaper than HDMI cable
You can easily find CAT5 wires of long lengths
In comparison to HDMI, it is easier to terminate a CAT5 connection and make new connections. Also, the tools required to terminate and crimp RJ45 jack are easily available. Same cannot be said for HDMI cords.
Thus, you can see the HDMI extender is a useful component in home theater setup which provides you convenience like no other and also easy on your pocket.
Do you have an HDMI extender in your home theater setup? Please feel free to comment.