HDMI Matrix Switcher 8×8: Revolutionizing Digital Video Switching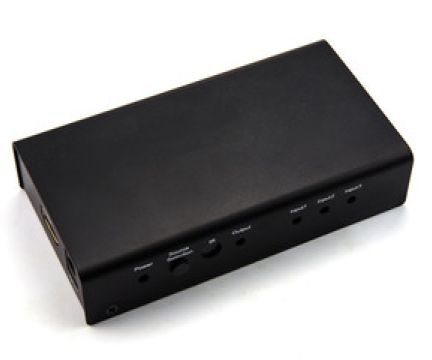 HDMI Matrix Switcher also known as HDMI Matrix allows you to connect multiple HDMI devices to multiple digital displays. It is a useful addition to your home theater setup if you need a device which can allow you to view any HDMI source on any TV in your home with a press of a button on the remote.
Here is some important information about this amazing device and the way it is revolutionizing digital video switching.
What is HDMI Matrix?
It is a combination of an HDMI switch and HDMI splitter.  With HDMI Matrix becoming a part of your entertainment setup, you can view one HDMI source on all digital displays or different HDMI sources on different displays without connecting or reconnect HDMI sources.  The Matrix Switchers feature intelligent technologies that ensure compatibility between digital devices and reliable system operation.
Different Sizes of HDMI Matrix Switcher
The available sizes of HDMI Matrix are 4×4, 8×8, 16×16, 32×32, and 64×64. The HDMI Matrix Switcher 8×8 is one of the popular sizes in the home entertainment category. It has 8 HDMI inputs and 8 HDMI outputs which mean you can connect 8 HDMI sources to 6 HDTVs or digital displays. The 8×8 offers 64 viewing combinations which might be adequate for many homes.
Devices That Can Be Connected Through HDMI Matrix
Technically, any HDMI source with HDMI output and any digital display with HDMI input can be connected through HDMI Matrix. Some HDMI devices that are compatible with HDMI Matrix are DVD players, Blu-ray players, XBox, TiVo systems, gaming consoles, satellite set-top boxes, and PCs.
Benefits of Using HDMI Matrix over VGA, DVI/Component
HDMI Cables carry AV signal in one wire which is not true with other AV wiring solutions. Also, HDMI can carry high bandwidth signal and can support up to 4K/8K resolutions.  The quality of AV signals transmitted over HDMI cables is superior in comparison to VGA, DVI or Component Cables. Using the HDMI Extender option, it is now possible to extend HDMI signals over long distances.
The HDMI Matrix is useful in many setups such as restaurants, commercial and government offices, bars, SOHO, large IT corporations, and digital signage. There are varieties of HDMI Matrix available in the market. If you are looking to purchase an HDMI Matrix for your office or home, make sure they have below mentioned basic features.
Features to Look for in HDMI Matrix
EDID Management
EDID refers to Extended Display Identification Data, a display technology.  The EDID communication happens between HDMI source and digital display to determine the best compatible resolution between two devices.
The HDMI Matrix Switcher 8×8 comes with EDID management to ensure you get the best resolution when watching any HDMI source on any display. Some advanced HDMI Matrix switchers has automatic EDID function where the device features EDID learning function and also has EDID modes that can be customized to any connected device.
HDCP Transparency
To curb unauthorized viewing and piracy, the video and broadcasting industry encodes the content on media with digital copy protection known as HDCP (High-bandwidth Digital Content Protection). The HDCP technology prevents copying of audio and video when traveling between devices.
Since the HDMI Matrix switch sits between HDMI sources and digital displays, the device needs to have HDCP transparency that will ensure the HDMI signals protected can reach the displays. Without HDCP transparency you will not be able to HDCP encoded content and all you will see is a message on the screen that says" HDCP Unauthorized. Content Disabled"
HDBaseT Compliant
HDBaseT refers to the capability of the device to carry uncompressed ultra HD or 4K resolution for best viewing pleasure. HDBaseT is compliant with HDMI and works well with HDMI. If you have a 4K or UHD resolution in your home or office, it makes sense to buy HDMI Matrix with HDBaseT compliance to ensure you can watch uncompressed content that does not degrade audio and video quality.
There is no doubt HDMI Matrix Switcher 8×8 has revolutionized digital video switching by giving us maximum entertainment options in form of 64 viewing combinations. It has also eliminated the need for installing multiple switches and splitters thus giving us freedom from device clutter.
 Do you know any other features of HDMI Matrix Switcher?