A Handy Guide to Getting the Best HDMI Splitter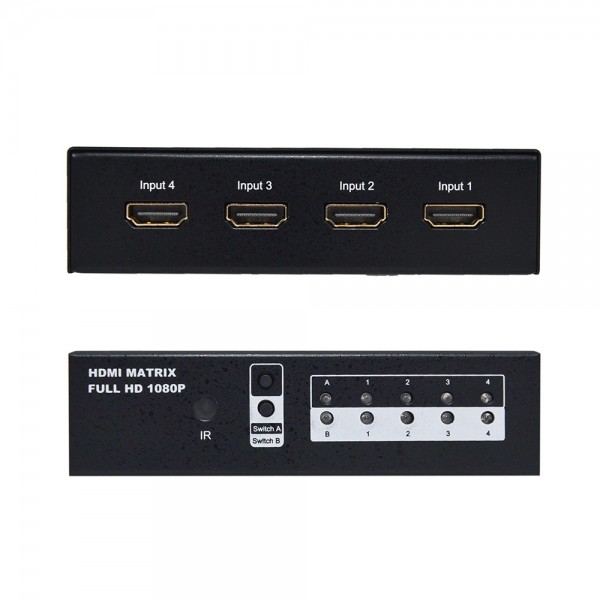 HDMI has become the industry standard and today most devices like Blu-ray player, DVD players, HDTV, Box, Satellite Television box, gaming consoles come with HDMI ports. If you look at the HDTV in the market, they have 1 or 2 HDMI ports which won't be enough to handle a cable box, a gaming console, a Blu-ray player, and a streaming gadget.
In such scenario, you would need a 4K HDMI splitter which will do away the need to swap cables. Let's learn more about the 4K HDMI splitter in detail.
What Is a 4K HDMI Splitter?
As the name suggests, an HDMI splitter is a device that splits the HDMI signal into many streams. You will find this device useful if you have run out of HDMI ports in your HDTV and face the challenge of swapping the cables more frequently to enjoy HD content from different HDMI devices at home.
The HDMI splitter is available in different configurations such as 3 port, 4 port or more. A 3-port HDMI splitter will have three HDMI inputs and you can enjoy the HD content from three different HDMI sources without swapping the cables. All you need to do is connect the HDMI sources and HDTV to the splitter and get ready to enjoy HD content from any HDMI source.
Here are some important features that a best HDMI switch should have.
Supported Video Resolutions
The world of TV resolutions is confusing; 720p, 1080 i/p, 4K, 8K and many more. The HD television panel technology has progressed rapidly, and you can find HDTV's supporting video resolutions like 1080p, and 4K in the market at an affordable price.
The 4K is a new important video standard and it will be more widely available as time passes. If you plan to buy a new HDTV in the near future, it is more likely to have 4K resolution. Hence, you need to buy a 4K HDMI splitter which will ensure your home theater is not only future ready but it can also support lower HD resolutions like 720p and 1080p as well.
Supported Audio Formats
Just like the video resolutions, the audio format the HDMI switch supports is equally important. Today, the majority of the HDMI content is encoded with high definition audio formats like DTS, HE-AAC, LPCM, Dolby Digital, Dolby Digital Plus, MP3 and AAC. The best HDMI splitter would support the majority of the audio formats mentioned above.
HDCP Compliance
Content/Copy protection is being used in the VHS era. Today's digital broadcasting companies and filmmakers use HDCP to protect their high-value entertainment content from piracy. The HDCP protection is designed to create a secure connection between HDMI source and the display.
Since the 4K HDMI splitter sits between the HDMI source and the display, it is highly imperative it is HDCP compliant or offers HDCP pass-through. If the HDMI switch does not support HDCP, you won't be able to watch any HDCP protected content on your HDTV. In this scenario, you may have to follow the old method of swapping cables and connecting HDMI sources directly to your TV that can be an inconvenience for many.
Automatic Switching or Manual Switching
Since the HDMI splitter is connected to multiple HDMI sources, the device also offers a switching feature that lets you enjoy the content from any one HDMI source. There are two types of switching – Automatic and manual switching.
Automatic switching- you are not required to the HDMI source. The device automatically detects the most-recently-powered-on HDMI device and switches to that HDMI source
Manual switching – you are required to select the HDMI source using the remote control.
Which Switching Works Best in HDMI Splitter?
The way automatic switching works, it can lead to an unusual problem. For example, you will be forced to watch the HDMI source which is most recently turned on. If you want to watch content from the other HDMI source, you need to switch off other HDMI sources that will force the device to switch to the only HDMI source that is powered on. Thus, without a doubt, the best HDMI splitter should support both switching modes.
If the HDMI switch also offers manual switching, you would be able to switch to the desired HDMI source without powering down other HDMI sources.
Whenever you go shopping for 4K HDMI splitter make sure you look for the features mentioned above.  Do you've any questions?